The Future Workspace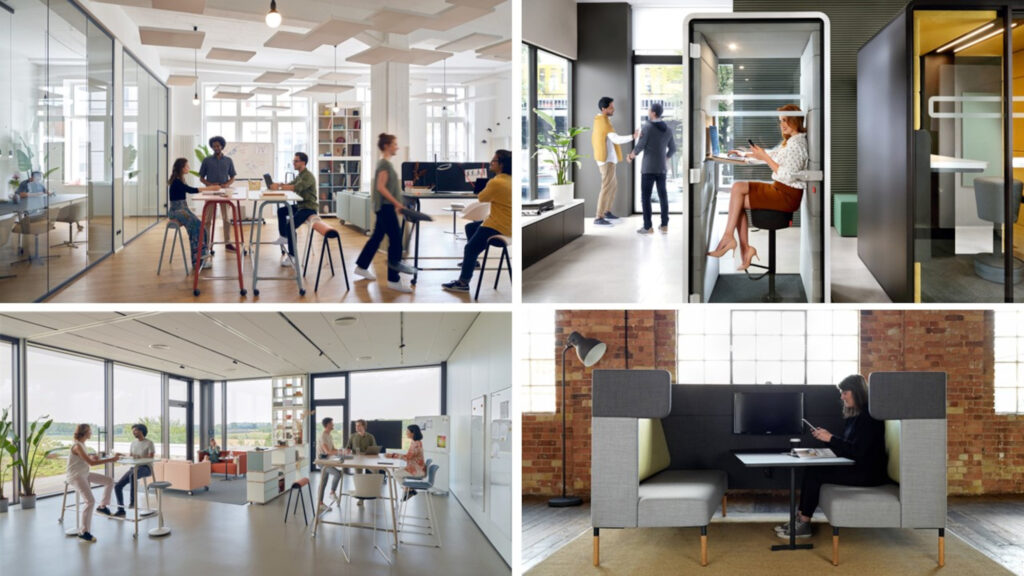 Over the past year we all have experienced enforced restrictions which have brought vast changes in the way we all work. From working at home lots of people have discovered they can be productive and get their work done. Following the initial joy of being based at home and creature comforts and not having to commute to the workplace. Lots of staff have reported separation from the office. This in turn has focussed what we miss most about office life which will help us shape the future workplace design. See below some of are insights :
Community – Communal meeting spaces
Effective organisations are made up of individuals who are connected by more than just a company name. They share the same core values and welcome a common culture that manifests throughout the workplace. These core values are crucial to cultivating the interpersonal relationships and sense of belonging that hold communities together.
Moving forward communal space will receive increased attention as an element which can't be neglected. If people are going to work from home more when they come into the office, they will require the uplift of catching up with colleagues in relaxed communal spaces.
Collaboration
The act of coming together to work towards a shared goal. It is the main driver behind collective decision-making, and one of the biggest influences in modern day office design. From space planning to breakout areas, we intentionally create workplaces that enable seamless contact and boost collaboration.
Forward thinking collaborative space will receive heightened attention as an element which will be key in the future workspace. If people are going to work from home more often when they come into the office, they will require key collaboration spaces to catch up with work colleagues.
Workplace booths and pods
Although there is a strong appetite for the requirement of communal and collaboration areas. Many staff still will require a quiet, private space to work. This incorporated with the large-scale adoption of virtual meetings means that those who chose to attend the office will regularly need a private space to hold virtual meetings with home working staff or clients.
Workplace booths and pods are a self-contained, segregated, and sound proofed space. The benefit of the booths and pods lies in the versatility of their design: they are delivered flat packed and are installed quickly, they don't have to meet building regulations and they can be moved around within the workplace. A perfect solution to companies who work in open plan areas and now may require meeting spaces and quiet / focus areas.
Enhanced Technology & Facilities
Lots of us have had the aspiration for great Wi-Fi and connectivity, technological tools and services that tend to be offered as matter of course in workplaces and few of us have the resources or space to house large printers and other tech. The recent situation has given some a insight into modern technology which is unabated, and companies will want to offer a hub to enable productivity through IT support and provision of the best technological equipment. Ergonomic furniture will be a priority to ensure all employees are receiving appropriate physical support for the work they do when they are in the office.
Corporate Identity & Insightful Design
Employees are being given flexibility in where they work, more attention will be required to ensure the workplace is a place of choice rather than necessity. It should be a place which supports and enhances a working day, styled to embrace the company culture, and encourage the family mentality. Investment in creating amazing and a enriched workspace will be considered a symbol of the company and a advantage for those who work there. Corporate identity will be at the forefront for organisations bringing a sense of identity for staff and visitors. There will be a softening in the design for this space to take greater influence from both residential and hospitality styles. Smart lockers and agile working spaces are a great addition to the design and space as users can pre book lockers and desk spaces in advance of entering the workspace.
Camaraderie and Wellbeing
The sense of fun that comes with developing relationships with colleagues and achieving things together. This is crucial to employee wellbeing. Employees who lack the trust of a social network are more likely to feel a higher level of psychological distress. Numerous studies suggest that low social capital in the workplace can increase employees' stress levels and even lead to depression.
Transforming the office to meet the needs of an evolving world is essential. Wellbeing will be at the heart of office design both in psychological terms in offering connectivity, and a sense of belonging and identity or physical wellbeing in providing technical facilities and ergonomic furniture. The autonomy people will now have in choosing where to work is invaluable and well received. Looking beyond current essential restrictions, bringing people together will always be of vital importance.